Black America's Pushback to the Familiar Faces of Election 2016
When campaign season kicked off months ago, presidential hopefuls hopped on the political bandwagon, leaving the American public to digest nearly 20 different faces, platforms and personalities. Time has passed and only a few worthy (and definitely not-so-worthy) candidates remain. Most people – whether politically savvy or generally apathetic – recognize that two particular candidates on opposite lines have been in the cultural limelight from the onset of the election season. Now being evaluated as serious contenders, Hillary Clinton and Donald Trump are pulling out all the stops to rack up votes – except from Black millennials. Over the past two years, this demographic has made tremendous waves in the political pool by applying pressure on social change and race relations in America. So, why are they ignored  by both presidential frontrunners? Catering to two opposite sides of the coin, Clinton's campaign is drawing in tremendous support from women, particularly Latinas,  college-educated female Gen Xers and Baby Boomers; while Trump attracts  older, less-educated, social conservatives. Second-place Republican candidate Ted Cruz  continues to pull at the heartstrings and values of conservative women, Evangelicals and senior citizens. The lone candidate to scratch the surface of issues facing Black millennials is progressive, self-proclaimed socialist-turned-Democratic candidate Bernie Sanders. Despite their insistence that they can get the job done, both Clinton and Trump have avoided and disregarded the potency of the Black millennial voice and platform.
Black millennials, who make up the majority of their racial demographic,  have shown up and shown out in primaries, particularly in the South. In 2012, 55 percent of young Black voters showed up at the polls, compared to their Latino and White counterparts. This millennial group has become cynical of traditional politics and older generations' partisan views with catalysts such as the Black Lives Matter movement and the rejection of respectability standards fueling their dissent. Make no mistake, the issues facing Black America are neither identical nor unfamiliar from what we've seen in past election years, but the difference lies in how often these problems are exposed (Hello, social media and Black digital communities). Therefore, the bar has been raised by Black millennials to challenge candidates' complacency in dealing with the plights affecting Black America. It's clear: The Black millennial vote won't be won easily. So, no matter how much Trump thinks he's going to do great with "the African Americans," or how qualified Clinton believes she is to handle the grievances of #BlackLivesMatter demonstrators, their platforms are not immune from scrutiny. Beware: The following critiques of Trump and Clinton are directly tied with my identity as a Black female millennial and surpasses partisanship affiliation by instead examining where I fit, if at all, in their presidential rhetoric and platforms.
Donald Trump
Prior to 2015, seeing "American politician" beside Trump's name would have garnered quite a bit of laughter along with doubtful inquiries. Known for his laundry list of business ventures and media appearances, Trump is  noted for his wealth and social status, not his political prowess. While the latter remains unchanged, laughter has turned  to fear as many spectators have transformed into supporters, co-signing Trump's controversial views. The  "politician's" platform has caught global attention for being all spectacle, no sense. Within the span of a few months, Trump has discussed implementing the deportation of Mexican immigrants, barring Muslim from the country for "national security purposes" and made misogynistic comments about everyone from Hillary Clinton to conservative political pundit, Megyn Kelly. Adding significant insult to injury, the leading Republican candidate commends and justifies supporters' heinous actions against opposition – like spewing racial epithets in the names of minorities present, punching protesters in the face and exhibiting any and all behavior parallel to that of Jim Crow 1966. Avid supporters of the Donald have gone head-to-head with protesters that denounce the mogul's fascist dogma. Three weeks ago, citizens in Chicago turned out in droves, forcing the cancellation of the candidate's speech, after he ironically felt that his safety was in danger.    
 Trump's momentous crusade to "Make America Great Again" is so problematic, not only for its mirroring of Ronald Reagan's slogan and subsequent detrimental career as president, but also because of its insinuation that America's greatness can only be achieved by buying into Trump's deranged ideology. America won't be great if we deport illegal immigrants and construct a wall to keep people out. America won't be great if we target Muslim Americans and accuse them of domestic terrorism. America won't be great if we silence Black people who are tired of police brutality and injustices within a country built off their labor. And certainly, America won't be great if people are expected to idly and actively condone misogyny and sexism. America can only be great if all people are promised their inalienable rights regardless of race, ethnicity, age, gender, sex, religious affiliation or socioeconomic status.
Like other minorities, the voice of left-wing Black America has been trolled and insulted by Trump. Using his Twitter fingers as a mouthpiece, the presidential candidate retweeted an defamatory and inaccurate statistic last November, highlighting disproportionate murder rates caused by Black Americans.
Perhaps, he was still reeling from the gut-check he took in 2002 after four Black teenagers of the Central Park Five case – whom Trump insisted face the death penalty –  were released from prison, after evidence and a confession found them not guilty. Maybe, the fact that President Barack Obama is indeed a natural-born U.S. citizen really grinds Trump's gears. Whatever the issue may be, if Trump wants to assure critics that he's doing great with "the Blacks," he should stop giving Black attendees the boot from his rallies and quit denying his racist tendencies. Another tip: Saying "the Blacks" is pejoratively equal to saying "you people" or even "coloreds." Try something else.
If that isn't reason enough for Trump's race to the White House to be averted at all costs, his dependency on his celebrity can no longer veil how inept he is. At the heart of his campaign is vanity and discrimination, while his projected resolutions are all but noticeable. Frankly, he's the last person qualified to represent this country – and I'm sure he knows that.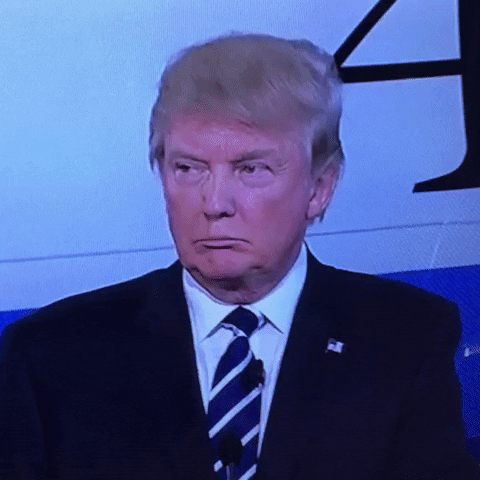 Hillary Clinton
On the other side of the partisan spectrum sits Hillary Clinton, whose narrative and cultural popularity  began as First Lady of the United States to husband and former President Bill Clinton. Overcoming the 1990s scandal surrounding her husband's extramarital affairs that subsequently ended his presidential tenure, Hillary has certainly bounced back from those troubling times. Her political prowess has been affirmed by her service as U.S. Secretary of State (2009-2013) and New York Senator (2001-2009), placing her on higher ground than many of her political opponents. Nevertheless, her reputation as a former Republican and remarks associating Black people to criminal activity  are enough to leave liberal Black supporters a bit apprehensive of another Clinton's presidency.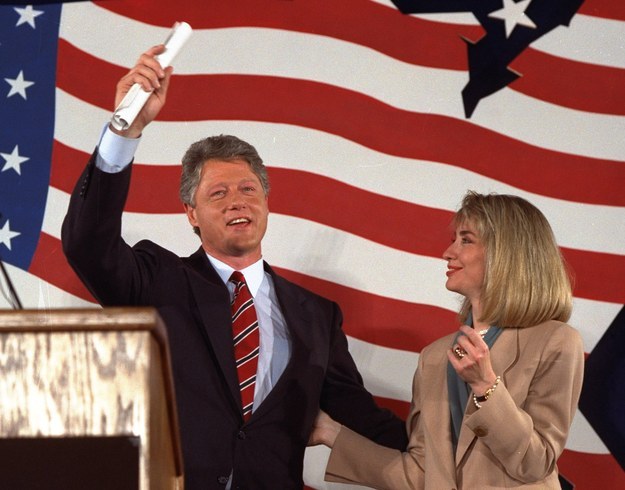 Prior to Bill's years as Commander-in-Chief, the country faced a struggling economy, increasing crime rates and embarrassingly high unemployment numbers. In response, reforms were enacted with intentions to improve America's welfare program and strengthen law enforcement and penal code measures. The Violent Crime Control and Law Enforcement Act was signed in 1994, offering billions of dollars for funding new prisons, hiring and training police officers; along with measures for stiffer sentences and capital punishment.  Residually, this legislation lay the groundwork for mass incarceration – a stigma that disproportionately impacts the Black community. While Hillary was not responsible for the passing of the well-intentioned act, many Black voters have recently raised red flags against Hillary, showing the receipts of her demonizing, overgeneralized comments in 1994 about Black youth and the need for stronger crime bills. During a 1996 fundraising event in South Carolina, Hillary emphasized the following:
They are not just gangs of kids anymore. They are often the kinds of kids that are called super-predators. No conscience, no empathy. We can talk about why they ended up that way, but first we have to bring them to heel, and the president has asked the FBI to launch a very concerted effort against gangs everywhere.
 With the continuous exposure of Black killings at the hands of law enforcement and vigilantes, the world is starting to see that Black humanity is more endangered than they'd like to admit. Amidst this fact, does Hillary still feel this way? By retracting this statement, is Hillary's concern for Black life genuine and Black America should let bygones be bygones… or is her apology only convenient for the sake of election?  
In February, when Black Lives Matter protesters interrupted her speech at a fundraising event, citing her statements from 20 years ago, Hillary seethed and disregarded their critique. Frustrated by the protesters, who negated the label of "super-predators" and demanded an apology for her role in approving mass incarceration, Hillary dismissively clapped back, saying "Do you want to hear the facts, or do you just want to talk?" The demonstrators were escorted out of the event by secret service, but not before a predominantly White crowd booed them and called them "rude" and "disrespectful."
Hillary has corralled an army of supporters, but she does not seem to be invested in winning the approval of Black millennials. In spite of Kumbaya efforts in the 1990s to mend race relations in America, Hillary's current platform neglects and practically muffles the issues facing Black youth. As much as she attempts to avert references of riding the coattails of her husband's political career, Hillary's views and projected moves aren't as progressive as she claims them to be, but instead are a half-step behind. #ImNotWithHer #WhichHillary. 
When it comes to the interests of Black millennials; the principles of justice, inclusivity and equality have remained absent in both Clinton and Trump's campaigns. And as painful as it is, the presidential golden years are coming to an end. The 2016 election is lurking around the corner, meaning many like myself are in a corner weeping, dreading the last months of the Obama Era. As we prepare for the January departure of the coolest President to ever reside at 1600 Pennsylvania Ave, we must direct our attention to more pressing issues – who will take the reins as Head of State. Sadly, the reality is our presidential prospects are morbidly disappointing. Yet, this means there is  more reason for people to investigate the remaining candidates and exercise their political voice. As tempting as it may be to apply for passports and visas in desperate hopes of finding residence elsewhere, your best bet at this point is to vote wisely and beware of voting for the familiar face.
---
Works Cited
Borkowski, Monica. "LEGISLATION; Major provisions of the Crime Bill." TheNewYorkTimes.com. The New York Times. 22 April 1994. Web. 28 March 2016.
Brady, David and Douglas Rivers. "Who are Trump's Supporters?" RealClearPolitics.com. Real Clear Politics. 9 September 2015. Web. 28 March 2016.
Gertz, Matt. "What Polling Data Actually About Hillary Clinton's Support From Boomer Women." MediaMatters.org. Media Matters For America. 29 January 2016. Web. 28 March 2016.
McLaughlin, Michael. "Latino Millennials Have the Power, So Why Don't They Use It?" HuffingtonPost.com. Huffington Post. 22 January 2016. Web. 28 March 2016.
Moore, Antonio. "Hillary Clinton Should Ask for Black America's Forgiveness Before She Asks for its Vote." HuffingtonPost.com. Huffington Post. 16 February 2016. Web. 29 March 2016.
Scott, Eugene. "Black Lives Matter protesters confront Clinton at a fundraiser." CNN.com. CNN. 26 February 2016. Web. 29 March 2016.