The Lucidity of Frank Ocean: Rolling Orange into Blonde
Grapheme-color synesthesia is a form of a neurological phenomenon in which an individual's perception of numerals and letters is associated with the experience of colors. Involuntarily, consistently, and in a memorable fashion, the music industry was widely and inadvertently introduced to Grapheme-color synesthesia by the work of an artist who lives in the shadows of his Tumblr posts and evocative vocals: Frank Ocean.
Channel Orange, released in 2012, was an epochal album that debuted Ocean's production vision and talent while simultaneously (and perhaps intentionally) suggesting quite a bit about the R&B artist's sexuality. The album covered content unconventional to the realm of hip-hop: Ocean speaks of his African motherland, Sierra Leone; unrequited religious love contemplated in the back seat of a cab with the meter running; children who filled the space of parental absence with unsupervised wealth; and an infamous love affair with a young gentleman wearing the number 44 on his football jersey.  The soothing melodies felt familiar, like symphonic and soulful jazz had come back to life engineered for the 21st century, but the lyrics cracked territory where no black R&B male artist had ever gone before.
Four years of radio silence followed the heroic path Ocean paved with Channel Orange. No music, no publicity coverage, no concrete updates, just a few quietly integrated features with confidant artists like Beyoncé and Kanye West, and a Tumblr post that seemed to leave Ocean's heart clinging to his airplane seatback table. In the anecdote-turned-thank-you-letter, he wrote about his first love, a man who had to stay on the 'inside;' a man who taught Ocean that "maybe it takes a near death experience to feel alive."
After gaining exposure to the intimate sensations of Ocean's reality, his fans begged for more: for more vulnerability, ambiguous connotations of sexuality, and a spotlight on how that narrative has never openly integrated with African-American culture. Four long years later, Ocean delivered one of the most highly anticipated records of the Millennial generation, his second studio album, Blond(e).
At no point in Channel Orange does Ocean mention his Grapheme-color synesthesia, or even the color orange for that matter, but in Blond(e), we hear and see the word in three different forms. First, on the album cover as 'Blond,' without an 'e' to indicate the masculine derivative of the term. Second, we see 'Blonde,' as indicated on the Apple Music platform, representing the feminine style of the term. Third, in the seventh track of the album, 'Self-Control,' we hear Ocean reminisce and plead to an old lover, turning blonde into a past-tense verb:
You cut your hair/but you used to live a blonded life
Wish I was there/Wish we'd grown up on the same advice
And our time was right.
Keep a place for me/I'll sleep between y'all
It's nothing.
Ocean's preferred communication medium is clear: he only feels comfortable telling his stories in a studio, where he paints a picture so vivid and so clear, it plays like a salted ocean breeze.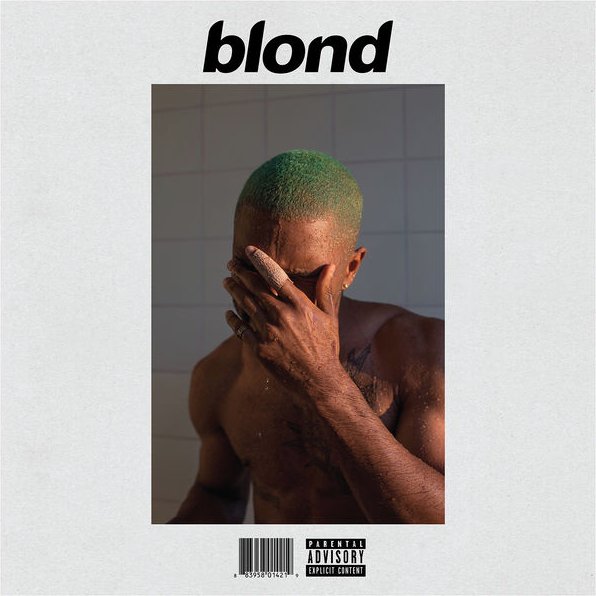 We will likely never see Frank Ocean performing at the Grammy's, going on tour, booking interviews, or even showing his face in any visual content because of his obvious loyalty to his private life. Many wonder if Ocean stays out of the spotlight from fear of hearing ridicule over his sexual orientation(s), while others believe that his secrecy has more to do with creative control than a stubborn vow to mystery.  Following Ocean's silence after Channel Orange and before the release of Blond(e), the artist livestreamed a visual album titled Endless. Before the music began, however, Ocean spent a week in the middle of a warehouse sawing wood, drilling planks, and arranging blocks that ended up as the foundation to a set of stairs. The mostly silent black-and-white stream was watched in anticipation by thousands. Ocean's intimation became clear as the music kicked in: the craft of music takes time and every bolt in this creation process matters. Fans waited for years, and Ocean provided his base with the alternative to instant gratification. In a modest way, Ocean encouraged people to appreciate the suspense as much as the product.
Despite his isolation, listeners hear intimate details about the most vulnerable moments from his dreamy-impressionistic world: moments in love, his visions on an acid trip, speeding in a car that personifies his desire to float, his fight to keep mind over matter, his fears, and his superstitions. We hear about his imaginary world where an alter ego caves to a normalized societal structure, when he offers to "settle for two kids and a swimming pool,' and an alternate universe where a pair of real Nikes triggers the revelation that he, too, looks like the late Trayvon Martin. Much of the album feels like a lucid dream; we reach consciousness somewhere between falling asleep to poignant heartbreak and the first reflection of sunlight at dawn.
With five tracks that act as interludes with short anecdotes featuring guests, Ocean delivers matter that no black, male artist before him has ever dared to touch: sexuality as a spectrum. While artists from all genres face the Millennial demand to produce sophisticated melodies that build narratives about social realities, one recognizes immediately that Blond(e) was not created as a response to demand. It is a piece of Ocean's soul he felt obligated to reveal.
Frankly, he produced a 60-minute masterpiece that undeniably makes the world a better place.
The release of Blond(e) meant considerably more than just an artist coming back to the studio after a few years off. In actuality, it's apparent that Ocean took no time off at all, but the perfection of his chronicle kept him up at night over the years. Ocean delivered as a cultivated soul with nothing to hide, attesting that the exposure of his orange-tinted life four years ago did not even begin to scratch the surface of his gravity. He has returned comfortable in his own skin, wrestling with his demons, urging his listeners to sense their hearts pulse with the actuality that 'we will never be those kids again," and a bold vindication that makes limbo sound beautiful.